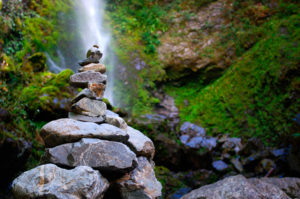 Rock cairns are used throughout the world to serve as reliable and steadfast trailmarkers that can withstand the tests of time and the elements. Cairn Investment Performance Consulting provides the industry with expert guidance and resources related to their investment management and performance measurement practices.  Our comprehensive services can include Back-Office Support, Performance Measurement Services, Composite Management, Risk Analytics and Portfolio Characteristics, and GIPS® compliance support.  We also leverage our extensive experience to provide educational training and review materials for the CIPM certificate.
Like our namesake, we strive to be a strong and reliable partner in helping our clients reach their destinations, when the path forward may seem uncertain.
After many years of conducting GIPS verifications and ad hoc performance projects, we observed that many firms recognize the need for reliable performance figures and/or GIPS compliance, but lack the resources and/or expertise to achieve their goals. Some firms start by looking for a verification firm, and don't adequately assess the commitment of resources needed for these projects. That's where we come in.
We were originally founded as Nelson Investment Performance Measurement Services in 2009, and were succeeded by Cairn IPC in 2012. Our mission has remained constant: to provide a wide range of expert guidance and efficient investment performance solutions to investment advisors. With broad experience in GIPS compliance, practical knowledge of performance measurement, and essential understandings of performance software, we have developed a hands-on approach to move your projects to their conclusion, using the most experienced and efficient resources available to you.
 Time-tested experience ~ Rock-solid reliability
(541) 601-2679
Email Christian
Christian founded our predecessor firm in 2009, Nelson IPM Services, to fulfill a much needed service of hands-on performance measurement services and consulting to investment advisory firms. With grounding in the best practices of the GIPS
®
standards, and in-depth knowledge of programming, and accounting systems, Christian is able to use his insights and creativity to assist firms in finding the shortest path to their destination, using the most efficient resources possible. Prior to founding Nelson IPM Services, Christian worked for the Performance Measurement Resource Group, providing similar services to those provided today. Christian also spent four years providing GIPS consulting and verification services with Ashland Partners & Company, working with firms across the U.S., and in Mexico, Chile, Korea, China, and the United Kingdom.
Certificate in Investment Performance Measurement®
B.S. in Accounting, University of Oregon
Member of CIPM Association
(541) 324-9953
Email Erik
Erik joined our predecessor firm in 2010 as a highly experienced professional who assists firms in achieving GIPS compliance and operational efficiency in the areas of GIPS compliance, performance measurement, and marketing. Erik has established the reputation as an expert and resource for clients and colleagues in the areas of GIPS compliance and interpretations, performance measurement, alternative investments, and international issues. Erik also develops and serves as our lead instructor for our CIPM review material. Prior to joining Cairn, Erik spent seven years as a Manager with Ashland Partners & Company, gaining invaluable experience from conducting hundreds of verification and consulting engagements across the U.S. and around the globe, including Canada, Mexico, Japan, Korea, Hong Kong, Australia, United Kingdom, France, Poland, and Romania. Erik also previously worked as a public company Research Analyst at William O'Neil + Co.
Chartered Financial Analyst®
Certificate in Investment Performance Measurement®
Certified Public Accountant
B.A. in Political Science and Economics, University of California, Los Angeles
Member of CFA Institute
Member of CFA Society of Los Angeles
Member of CIPM Association
Email Tony
Tony joined Cairn Investment Performance Consulting in 2013, and provides client service and performance measurement expertise to our various clients.  Prior to joining Cairn, Tony gained a wide breadth of experience in performance measurement and the industry as a GIPS verifier at one of the leading verification firms in the world.  Tony is a proven leader and problem-solver, which he developed by serving as a paratrooper in the 82d Airborne Division, U.S. Army, as a Combat Medic.  In that service, Tony's deployments included South Korea, Iraq, and New Orleans after Hurricane Katrina.
B.S. in Business Administration/Public Accounting, Southern Oregon University
Certificate in Business Information Systems – Accounting Information Systems, Southern Oregon University
CPA Candidate
Email Cody
Cody joined Cairn Investment Performance Consulting in 2014, and is pioneering new technologies that will allow Cairn to provide a level of client service that cannot be found elsewhere. Cody has a lifetime of experience in every facet of technology, but primarily focuses in web-based and high-performance computing. Cody has developed for several eCommerce systems; he has created Facebook apps, marketing analytics systems, web-based professional training software, and has designed plugins for content-management systems. Cody has experience operating and administrating information technology for countless companies. Cody is currently finishing a degree at University of Oregon in Mathematics and Computer Science. He is involved in technology research and is also the primary contributor for an open source distributed processing (volunteer grid computing) framework. Cody regularly uses a number of languages to develop software including C/C++, PHP, SQL, HTML, CSS, Javascript, Visual Basic, Java, Python and more.
(In-Progress) B.S. in Mathematics and Computer Science, University of Oregon
A.S. in Computer Programming and Software (Honors), Rogue Community College
CompTIA A+ Certified
CompTIA Security+ Certified
Dan Rullamas, CPA